Power outage reminder for solar users
Remember: do not run your solar system during a power outage. Disconnect your solar system before using a generator. It could damage the inverter.
Installing Solar: The Basics
What does Clay Electric require from me?
Clay Electric will install a net meter. The member/contractor will need to supply:
an Interconnection Agreement
a copy of Personal Liability Insurance
≤ 10kW requires $100,000
≥ 10kW requires $1,000,000
PV Panel information
Inverter information
a line diagram of electrical connections
a county permit
a manual disconnect between the inverter and the home's electrical panel
Common questions about photovoltaic systems
A Homeowner's Guide to Solar Electric Systems (PDF)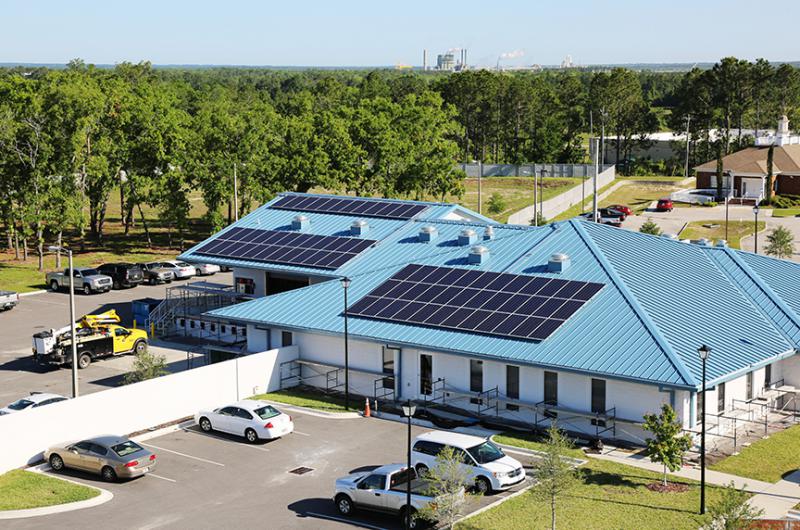 Co-op commits to solar power initiative; builds four systems
Clay Electric has installed 18-kW solar systems at four of its district offices: Orange Park, Palatka, Gainesville and Lake City. The purpose of the project is to offset energy consumption at the offices and provide members with real-time data and accurate information about solar systems.
The systems are about twice the size of a normal household system. More than 60 panels were attached to the roofs of each district office, which can generate more than 135 kWh daily when the sun is shining.
To learn more about solar energy, read the links below or contact the co-op's Energy Services Division by emailing solar@clayelectric.com or calling 1-800-771-2325 ext. 8352.
Clay Electric does not install or supply solar systems, but only provides an interconnection to the electric utility grid.
Member Generated Power
Seminole Electric Cooperative, Inc., through Clay Electric, will purchase electricity generated and delivered to Clay Electric from any of its members' qualifying small photovoltaic systems of 100kW or less, under the provisions of section 25 of the Miscellaneous Rate Charges.
Section 25 (Net Metering of Customer-Owned Renewable Generation) (PDF)
Notify Clay Electric if you receive power from an alternative energy source
The State of Florida requires that Clay Electric keep track of the amount of electricity received via customer-owned alternative energy sources. At present, the co-op has more than 1,600 members who own renewable (solar) systems that generate electricity for their homes. These systems generate electricity for home use and excess power is returned to Clay's distribution system. The co-op records, using a special meter, the amount of electricity returned to the co-op's system.
If you own or plan to have one of these systems installed, please make sure you've signed an Interconnection Agreement with Clay Electric. The State of Florida requires that all customers who have systems that are or will be connected to the electrical grid have an Interconnect agreement signed with the receiving utility. It is the member's responsibility to notify Clay that they're operating or plan to operate an alternative energy system. This is important for safety reasons and for billing purposes, and to ensure the member receives proper credit for putting power back into the co-op's distribution system.
Contact the co-op's Energy Services Division for more information.
Interconnection Agreement (PDF)
Videos
Check out this video for instructions on how to read and calculate your net meter with the advanced metering system.