One more benefit of cooperative membership!
Clay Electric is always looking for ways to increase the benefits of being a member of our cooperative and our community. The Co-op Connections Card is a national discount card program that is free to Clay Electric members. It offers 10-85 percent discounts on prescription drugs at participating pharmacies, as well as special discounts and deals from local and national businesses!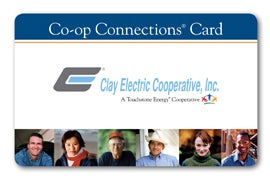 Need a card? Email us with your name and mailing address and we'll send one out right away!
Pharmacy Discounts
The Co-op Connections Card is not insurance, and cannot be used in conjunction with insurance, but it can help you get a great price on prescriptions that are not covered by your insurance. Also, the pharmacy can help you determine if the prescription price is lower with your insurance or with the card. Click here to search for participating pharmacies near you.
Participating Businesses
For your convenience, here is a list of merchants in Clay Electric's service area that have joined the Co-op Connections Card Program (so far) and which offer discounts when you use your card. This list DOES NOT include all the discounts offered by national chains, pharmacies and other national merchants. You can also visit Connections.coop and CoopOffers.com to find discounts on products and services offered by other local and national businesses! Whether you want to order a pizza from a local business or book a hotel room or rent a car in another city, Clay Electric's Co-op Connections Card Program might provide you with a discount.
If your business would like to participate in the Co-op Connections Card Program, please call World Expositions at (815) 210-8779.
There's an App For That!
The Co-op Connections Card app download is on the www.connections.coop website.  You will find it on the lefthand side below the search function box. The app provides a virtual card (front and back) with vital prescription discount info on your phone.  You can also use your phone's GPS feature to find businesses that accept the card if any are nearby, and identify your favorite discount deals and save them in "My Deals" for easy access.
Healthy Savings Medicare Assistant
The Co-op Connections Card has added a Medicare comparison service called Healthy Savings Medicare Assistant. This new service allows members to consult with licensed Medicare agents who will help them choose the best plan for their individual needs. This service can help turn complex Medicare issues into simple ones. 
ID Sanctuary
Your Co-op Connections Card can now help you avoid a lot of grief caused by identity theft. Touchstone Energy® is adding ID Sanctuary identity theft monitoring and resolution services to the Co-op Connections Card's list of benefits. ID Sanctuary provides the proactive tools and recovery assistance you need to quickly respond to an identity or fraud crisis.
With ID Sanctuary, you can rely on immediate, personalized attention from a fraud specialist whenever you need it. Fraud specialists are armed with the knowledge to help reduce the risk of identity theft and provide unlimited resolution assistance should you fall victim—giving you emotional support and peace of mind.
FAQ
Click here for answers to your questions!
Additional Savings
www.connections.coop – view national deals and learn about all the benefits the card has to offer.
www.coopoffers.com - view local deals and grocery coupons.
www.healthysavings.coop - this site helps you locate participating health providers.
www.coupons.com – print coupons to save money on everyday items.
www.rxpricequotes.com – find price quotes for prescription medication.