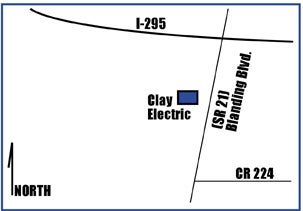 734 Blanding Boulevard
Office Hours 8 a.m. to 5 p.m.
(904) 272-2456
Other Offices
Keystone Heights
Gainesville
Lake City
Orange Park
Palatka
Salt Springs
Directions
Located 4 miles south of I-295 on west side of SR 21 (Blanding Boulevard).
From west Duval or Baker Counties - take I-10 east to I-295, then I-295 south to exit #4, then south on SR 21 to office.
From Middleburg - go north on SR 21 to office.
From Green Cove Springs area - go north on US 17 to CR 220. Turn left (west) on CR 220, cross over Swimming Pen Creek and railroad tracks, turn right on College Drive. Go to Blanding Boulevard and turn right (north) to office.
From Fleming Island area - (same as Green Cove Springs).