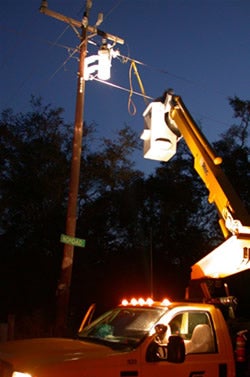 Restoring power after widespread outages is a big job that involves more than simply throwing a switch or removing a tree from a line. It involves a huge coordination effort with hundreds of linemen working in very dangerous situations. There is nothing routine when restoring power after a storm.
Although Clay Electric is committed to restoring the electric power to all co-op accounts as safely and quickly as possible, our initial goal is to safely restore power to the greatest number of members in the shortest time possible. In order to accomplish that, the process begins with a damage assessment of the co-op's lines and facilities by employees who have been specifically trained to accomplish those tasks. The assessment allows the co-op to direct its resources (both labor and materials) to the areas where they are needed the most.
Repairs are first made to the co-op's large transmission lines which carry high-voltage electricity to our distribution system from generation stations like Seminole Electric Cooperative's coal-fired plant near Palatka. Lines such as these must be repaired first along with any damage to transmission substations. Transmission lines serve many thousands of accounts.
Next in the process of restoration of power are the distribution substations and their respective main feeder lines. The co-op has more than 50 substations on its system, and there are about 14,000 miles of distribution lines which are routed from the substations. Main feeder lines are those that you normally see alongside a highway.
The number of members served by Clay Electric's distribution substations range from a few hundred to nearly 9,000 members - so you can see the importance of getting the substations back in service. A main feeder line on Clay Electric's system serves as many as 2300 members.
Individual tap lines are repaired next in the restoration process. Tap lines typically serve the fewest number of members.
See how dependable electricity reaches you (PDF)
See how power is restored after a major outage (PDF)
When will Clay Electric be working to restore power?
Is there preferential treatment for restoring power?
Are there some general expectations regarding how long restoration might take following a hurricane, and what kind of situations could prolong the effort?
Call 1-888-434-9844
Please call the toll-free, automated outage reporting line seven days a week, 24 hours a day. Please do not report outages via email, as email communication may not receive immediate attention.
Call 1-888-434-9844
Please stay on the line to talk with a customer service representative to report the damage and location. Personnel are on duty seven days a week, 24 hours a day. Also, stay clear of the damage and warn others.