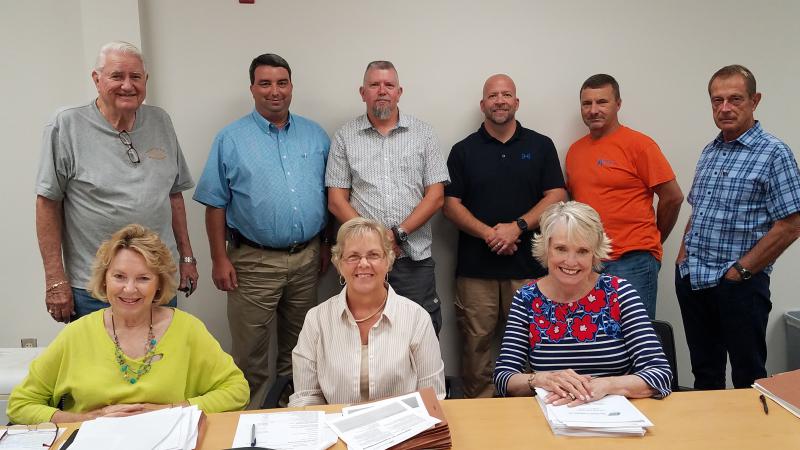 The Clay Electric Foundation is a 501(c)3 organization set up to represent the members of Clay Electric and the funds collected through Operation Round Up® for charitable purposes. The mission of the Foundation is to distribute money collected from Clay Electric members through Operation Round Up to worthwhile, charitable and educational purposes that will improve lives and respond to immediate needs within the counties where the cooperative provides electric service.
The Foundation board is governed by nine volunteers - one cooperative member from each of the nine trustee districts. Each Foundation board member will be appointed by Clay Electric Cooperative's Board of Trustees and will serve staggered 3-year terms. The Foundation board reviews grant applications and makes decisions regarding approval and funding levels within the guidelines of the Foundation bylaws.
Kathy Barrow is the Vice President of the Foundation Board. She is a retired educator from the Clay County Public Schools and has been a member of the co-op for 53 years. Kathy spent many summers on lake property in Keystone Heights growing up, and chose to raise her family there after attending Young Harris College and the University of Georgia. She earned an MS degree in counseling at the University of North Florida, and worked for many years in elementary education in Clay County.
Since retiring in 2006, Kathy has volunteered at Lake Area Ministries, a local food bank that feeds 15,000+ people annually. Kathy and her husband, Henry, have been married for 48 years, and they are charter members of the Keystone United Methodist Church. They have two children and five grandchildren.
Susan McCool is the former Putnam County Supervisor of Elections. She has been a Clay Electric member for 36 years.
Growing up, Susan attended kindergarten through 12th grade within the Putnam County school district. She went on to study business at St. Johns River Junior College.
Susan is an active member of the First Baptist Church of Palatka. Since retiring, all her time is now focused on her family: her husband, Jim; three grown children; six grandchildren; and her 92-year-old mother. She considers it a blessing from God to be able to spend so much time with all of them, and to be able to attend their sporting events. Susan and her family love to travel the U.S., and they have also become great NASCAR fans.
John Roberts of Gainesville represents District 4. He is a commercial lender at SouthState Bank and has been a member of the cooperative all his life.
John has lived most of his professional career in Alachua County working on agriculture and commercial lending with several banks. He and his wife, Nicole, have four children and are very active in their children's activities, the Gainesville community and their church.
Joe is currently a chief with the Clay County Sheriff's Office and has been in law enforcement for 19 years. He was raised in Clay County and has been involved in coaching youth sports for many years; he is currently working with Clay High School and a club wrestling program. He is a member of First Baptist Middleburg. 
Joe graduated from Orange Park High School and has a bachelor's degree from Columbia College. He is a graduate of the FBI National Academy and has committed his life to service of others.
Joe is married to his wife Amy and has two boys. He enjoys spending time with family and hunting. 
Carol Boyer Knight is retired from Allstate Insurance Company. She has been a member of Clay Electric for more than 30 years.
Carol worked for Allstate Insurance Company's claims department for 28 years, eventually becoming a bad faith expert and traveling the country to represent Allstate in settlement negotiations. After retiring in 2006, she opened her own consulting business to evaluate the bad faith exposure of insurance companies and testify at trials.
Carol has a bachelor's degree in sociology from the University of Florida. Since moving to Williston in 2002, Carol has taken advantage of various community service opportunities. She has served as chairwoman of the annual Friends of the Williston Library fundraiser, and as the director of women's missions and ministries at the First Baptist Church. Carol has also worked with the local police department and high school administration to raise awareness of teen auto accidents and deaths. She and her husband, Ted, have two children and four grandchildren.
Dennis is a life-long resident of Salt Springs. He will retire from the Marion County Sheriff's Office in August 2017 after 30 years of employment. In his last 12 years with the Sheriff's Office, he has served as the District Commander of the Northeast District, which is headquartered in Salt Springs. As a District Commander, his primary duty was to establish community contacts in both the public and private sectors. 
He is an active member of the First Baptist Church of Salt Springs, where he serves in numerous leadership roles. He and his wife, Kristy, have two grown children and two grandsons, and are expecting their first granddaughter in September 2017. His hobbies include hunting and fishing.